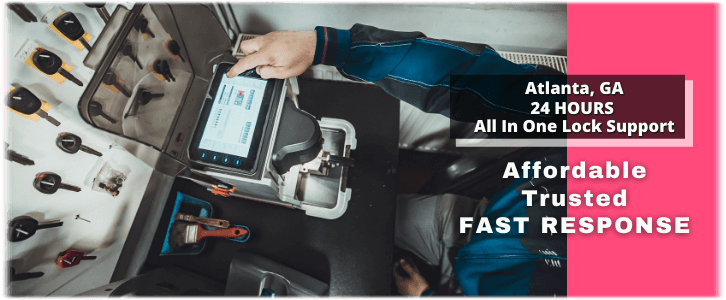 It takes a good deal of Atlanta Locksmiths experts to keep a client happy upon project completion and a friendly approach from the start! Do you need a professional lock service in the Atlanta area? Then, you've come to the right place. Unlike some mobile service providers, we care about more than just making a profit. To some of you, it may seem funny, but every locksmith we hire must be a good person with a big heart. Since we are a family-owned lock service, we fully understand the need to protect those close to you.
Atlanta's One-Stop Locksmith Service
Atlanta clients can rely on us for a variety of lock services. Our technicians cover the entire field, from car key repair to commercial locksmith work. In tough times, our technician's service is here to help, no matter where you live. Our 24/7 locksmith hotline is no easy task, but we are ready to take on any challenge! If you need help getting into your car, home, or business, call (404) 999-3908, and we'll be there in no time! Using our Atlanta Locksmiths to unlock service (what you call a pop-a-lock service), you can enjoy quickly watching your problem be fixed and returning to your regular schedule without any delays.
Atlanta Locksmiths – 20 Minutes Service!
We also offer 24-hour locksmith service as fast as possible regarding response times and emergency locksmith issues. Our Atlanta Locksmiths can be at your location within 20 minutes of your first call to our Atlanta locksmith. We're here if you have a lockout situation or need us to pop the lock! One day, you also need to install new locks on your back door; we are ready. We think that 20 minutes is a reasonable amount of time to wait to hire the services of an expert.
24/7 Locksmith Near Me
We gained a good reputation over the years as most of Atlanta's locksmith stores refused to serve clients after 10:00 PM. But whenever you need us, we'll never turn you away. Whenever you need them, our 24-hour Atlanta Locksmiths will respond FAST and are available 24 hours a day, 365 days a year. So whatever you need – a lock change on your front door, a new key for your car, or a rekey of locks at your office – we'll have it done in a jiffy.
Contact The Atlanta Locksmiths Today!
You can rely on the Atlanta Locksmith Team for solutions to keyless lock repair or house lockout issues. Together, we have over a decade of experience and have seen almost everything. So when our 24-hour locksmith in Atlanta takes care of your problems, he brings extensive experience. We won't leave until all of them have been resolved. So next time you need an expert to pick locks or install push bars, keep us in mind. The Atlanta Locksmiths can handle any job. Just give us a call at (404) 999-3908.